---
---
---
Contact
International Office
phone: Tel: +49 345 55 21590
fax: Fax: +49 345 55 27427
info@international.uni-hall...
Universitätsring 19/20
06108 Halle (Saale)
postal address:
Martin-Luther-Universität Halle-Wittenberg
International Office
D-06099 Halle (Saale)
---
---
Login for editors
---
Living in Halle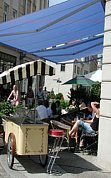 The Halle Student Union (Studentenwerk Halle) can help students and doctoral candidates (aged below 30) find places to live in Halle. Rent for a single room is between 120 and 200 Euros (80-130GBP or 145-240USD). Because there are a limited number of spaces available, it is recommended that you send your application in early.
The Halle Student Union
If it is not possible to find a student apartment, or you wish to find housing on your own, you can rent privately or apply for a student apartment-sharing community (Wohngemeinschaft: WG). The living situation is favourable in Halle because there are many apartments available and the rent is generally lower than in other parts of Germany. The best place to find available places for rent is on the bulletin boards, found in the entrances of many university buildings and cafeterias.
If you already have a place to stay in Halle, but still need lodging for the first few nights, here are a few inexpensive possibilities:
Jugendherberge (youth hostel)
Große Steinstr. 60
D-06108 Halle
Youth Hostel
Villa Jühling
Evangelische Jugendbildungsstätte
Semmelweisstraße 6
D-06120 Halle
Villa Jühling
Hotel Schweizer Hof
Waisenhausring 15
D-06108 Halle
Hotel Schweizer Hof
---
---