---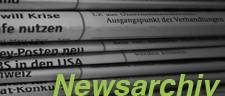 2010
| | | | | | |
| --- | --- | --- | --- | --- | --- |
| Jan | Feb | Mar | Apr | May | Jun |
| Jul | Aug | Sep | Oct | Nov | Dec |
---
2007
| | | | | | |
| --- | --- | --- | --- | --- | --- |
| Jan | Feb | Mar | Apr | May | Jun |
| Jul | Aug | Sep | Oct | Nov | Dec |
---
Newsarchiv: International
Jahr 2010
The Martin Luther University presents its yearbook
21.01.2010: The Martin Luther University Halle-Wittenberg (MLU) presents its fourth annual comprehensive, high-quality yearbook with journalistically prepared information about significant events and developments at the university. The articles reflect in writing (German and English) and photos the major advances the university made in 2009. These include the shaping of its profile in the areas of teaching and research, the provision of external funding and its role as a regional and international partner. "Our yearbook has allowed us these past three years to consistently record all of the facets and successes of the university," says MLU Rector Wulf Diepenbrock. "This fourth issue is even more appealing than its predecessors. The articles are as informative as they are entertaining."
Success for Halle's life scientists: two special research fields receive additional funding
Double success for life sciences at Martin Luther University Halle-Wittenberg (MLU). The collaborative research centre (SFB) 648 "Molecular mechanisms of information processing in plants" will receive millions in funding from the German Research Foundation for a further four years. Scientists from six institutes at the university in Halle and two Leibniz institutes are carrying out research in SFB 648. SFB 610 "Variation in Protein Conformation: Cellbiological and Pathological Relevance" will also receive further funding. In this centre, located at the University of Leipzig, researchers from three MLU institutes work together.
December, 3th 2008
Asian expertise for businesses in Saxony-Anhalt
Martin Luther University Halle-Wittenberg, its Associated Institute for Innovation und Entrepreneurship (IIE) and the Fraunhofer Institute for Factory Operation and Automation IFF Magdeburg want to make it easier for companies in Saxony-Anhalt to enter the Asian market. The Federal Ministry of Transport, Building and Urban Affairs is funding the projects with approximately 400,000 Euros.
November, 21th 2008
Jahr 2009
Fight against pathogen: plant geneticists make decisive breakthrough
02.11.2009: The Xanthomonas bacteria is the name of the pathogen that has led to the loss of many crops in Asia, America and many other hot and humid areas. It attacks important cultivated plants such as rice, peppers, tomatoes and citrus fruits by manipulating the genes of these plants. Biologists at the Martin Luther University Halle-Wittenberg (MLU) have now figured out how the pathogen does this. In this week`s Science Express, the advance online version of the renowned Science magazine, they reveal the secret behind this special code that Xanthomonas uses to manipulate genes. Knowing this code is imperative when it comes to breeding resistant plants.
Fertile Partnership
14.10.2009: "Creating a student-focussing university" - This is the motto of the Senshû University in Tokyo, a university seeped in tradition that is celebrating its 130th anniversary this year. For over 13 years it has had close ties with the MLU as a partner university. The signing of the partnership agreement in 1996 marked the start of an intensely close working relationship. The partnership was initiated by Halle`s Japanologist Prof. Gesine Foljanty-Jost and Jurist Prof. Yoshihiro Hidaka, today president of the Senshû University.
Magdeburg Cathedral reveals its secrets
14.10.2009: The 800th anniversary of the Magdeburg Cathedral is attracting particular public attention to this unique sacred building in the city on the Elbe River. It survived multiple destructions of Magdeburg and still shapes the silhouette of the city. In October, the international colloquium "The Magdeburg Cathedral in a European Context" attracted renowned scientists from around the world to Magdeburg. Furthermore, important scientific publications emerged as part of the colloquium, some of which will soon come into print. They bear witness to spectacular excavation findings. The Institute for European Art History and Archaeology played a major role in this.
Spider-Man silk from Halle
14.10.2009: Webs have amazing properties. They are extremely strong and yet still elastic. But even something good can be improved on. Dr. Mato Knez and his team at the Max Planck Institute for Microstructure Physics have added small amounts of metal to the spider`s silk. This means that triple the amount of weight can hang on this treated silk. Other fibres may also be able to be made stronger using this method. MLU scientists cut the silk into 100 nanometre thick slices for their investigation.
Top Researchers from Weinberg
01.07.2009: "HALOmem" and "SiLi-nano" mean that there have now been two "Competence Centres for Innovation" (ZIK) in Halle for over a year. These are excellent research projects in eastern Germany which were granted 6.25 million euros each by the Federal Ministry of Education and Research (BMFB). So far they are the only two in Saxony-Anhalt and are a major success for the research location of Halle and the Martin Luther University where both of the centres are located. scientia halensis finds out what has been happening since the grants were approved and who is behind the projects.
"Halle is like a smaller version of Budapest"
01.07.2009: The Martin Luther University Halle-Wittenberg collaborates with 14 German partner schools abroad as part of its international focus (BIDS project). One of these is the Ungarisches Bildungszentrum Baja (UBB) [Hungarian Centre of Learning]. In April, 17 prospective high school graduates visited from there in order to find out what Halle has to offer in terms of study conditions and degree programmes. In addition to selected lectures, they were able to enjoy a light-hearted programme. The atmosphere was fantastic despite the pouring rain.
New Protein Folding Research Cluster for Alzheimer's
02.04.2009: A new research cluster has started up as part of the state's Network of Excellence "Structures and Mechanisms of Biological Processing of Information" at the Martin Luther University Halle-Wittenberg (MLU). The scientists are working on "protein folding with Alzheimer's disease". Dr. Marcus Fändrich from Halle's Max Planck Research Unit for Enzymology of Protein Folding is the speaker of the research cluster. In addition to the MLU, the Max Planck Research Unit and the Leibniz Institute for Neurobiology in Magdeburg are also participating.
April, 2th 2009
Halle's Law Students are European Champions in World Trade Law
02.04.2009: Four students from the Law School at the Martin Luther University Halle-Wittenberg (MLU) achieved a top-performance at the "ELSA Moot Court Competition on WTO Law" in Barcelona coming in first place with their verbal and written pleadings. They will now take part in the World Championship in Taiwan in May.
March, 17th 2009
A University Museum of Natural History Planned in Halle
02.04.2009: A university museum of natural history will be established in Halle (Saale) in the coming years. The academic senate of the Martin Luther University Halle-Wittenberg (MLU) noted the concept for the project on 11 February 2009. There are two aims of the project according to MLU's Vice Chancellor Prof. Dr. Wulf Diepenbrock, "The internationally significant natural science collection will concentrate on academics and research and be innovatively exhibited to the public." The museum will be located at Friedemann Bach Square and ideally become reality by 2013.
February, 11th 2009
---
---