Current Information for International Students in the Context of the Corona Pandemic
Here you will find MLU's answers to the currently most frequently asked questions concerning the stay for international students.
Lockdown rules and measures
The city council of the city of Halle (Saale) has announced the 14th Containment Ordinance on 16.06.2021.

Schematic Rules of Conduct during the Corona pandemic in Halle from 16.06.2021
Grafik_CoronaRegeln - ab 16.6.2021.pdf (236.1 KB) vom 28.06.2021
Code of conduct in public spaces
The general mask requirement in the city center has been lifted.
It now only applies indoors and where the 1.5m distance cannot be maintained.
Passengers in local and long-distance public transport, i.e. buses, trains, streetcars, cabs, etc., as well as customers and visitors in stores must wear a medical mouth/nose protection.
A medical face mask is a multi-layer disposable mask (e.g., a medical face mask conforming to European standard EN 14683:2019-10 or a comparable product; commonly referred to as a surgical mask, disposable mask, or single-use protective mask) or a particle-filtering half mask (e.g., FFP2 or FFP3 mask). More information here .
---
Code of conduct in private
According to the 14th Containment Ordinance of the City of Halle, basic contact restrictions for private gatherings are not applicable.
It is recommended to keep the circle of people as small and constant as possible and to meet outdoors.
Vaccination
Vaccination with an appointment
A vaccination appointment can be made on the following page or with a doctor participating in the vaccination program (e.g. family doctor).
More information on the documents that must be presented at the appointment can be obtained from the above mentioned website or from the selected physician.
Vaccination without an appointment
The city of Halle is offering vaccinations without an appointment now.
Where these are taking place can be found here.
Behaviour in case of Corona symptoms
When corona symptoms appear, it is important to behave accordingly in order to protect other people from infection. For example, you must immediately isolate yourself at home and call the responsible Health Office. For advice on what to do when Corona symptoms occur, please see the leaflet "Corona Symptoms" published by the Robert Koch Institute.
Leaflet "Corona Symptoms"

Leaflet Corona Symptoms.pdf (155.7 KB) vom 17.12.2020
Self-isolation rules of conduct
If you need to go into self-isolation please take note of the following points:
Follow the Health Department's instructions at all times!
Do not leave your home. If you live in a shared flat, please isolate yourself in your own room. Use your own bathroom if possible. Check with your flat mates when and how common areas can be used.
If you have Covid symptoms, please report to the Health Department immediately!
If you need assistance with food or medicine, you can take advantage of the assistance offered by the Freiwilligen-Agentur ('Volunteer Agency'). All you have to do is fill this online form . If the Volunteer Agency is unable to help you, you can contact the following emergency number (in emergency cases only!) in the period 21.12.2020 - 10.01.2021 (except: 24.12. - 27.12.; 31.12. - 01.01.) from 9.00 a.m. to 3.00 p.m.: +49151 16163494

Further tips, recommendations and information about self-isolation can be found in the leaflet of the Federal Office for Civil Protection and Disaster Aid.
Merkblatt-Infektionsschutz-Quarantaene-EN-VR1-1.pdf (317.8 KB) vom 16.12.2020
Entry, corona test and self-isolation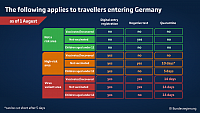 Entry Regulations August 8th 2021 onwards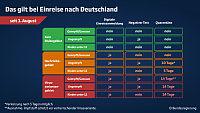 All necessary information regarding immigration to Germany in the current situation can be found in the graphic next to this text.
The information can also be obtained through the website of the German Ministry of Immigration here .
Corona entry regulation of the federal ministry for health
BAnz AT 30.07.2021 V1 - Verordnung ab Juli 2021.pdf (1.3 MB) vom 30.08.2021
What else do I need to know prior to entering Germany?
Please have a look here at the websites of the German Federal Government regarding the current rules for entering the country.
Where can people entering the country get tested?
People travelling from risk areas should be tested at the location of arrival, e.g. airports or ports.
Where you can get tested in the City of Halle, you can find here .
You are allowed to leave the apartment to go to the test center. As soon as you have a negative test result, you must present it to the local health office.
You can find out where you can take a test locally by calling 116 117 or on their website: www.116117.de . If you want to be tested at your family doctor's office, be sure to call there first.
What are the consequences of a positive test result?
A positive test result signifies that the person must self-isolate for 14 days.
For a proper self-isolation a separate apartment in Germany is required. The self-isolation cannot be carried out in hotels nor in dormitories of the Studentenwerk.
If you have to self-isolate, you will find recommendations and facts in various languages here , compiled by the Federal Center for Health Education. Please note that you are not allowed to leave the apartment during quarantine, otherwise you will be fined at least 500 Euros.
What are the consequences of a negative test result?
In most Laender, testing negative means home quarantine is no longer required. In specific Laender, repeating a test a few days later may be necessary, however.
What to do if COVID-19-Symptoms emerge
Irrespective of the result, if typical COVID-19 symptoms (difficulties breathing, newly developed cough, fever or loss of smell or taste) emerge within 10 days of entry from a risk area, your competent health office must be informed right away. Ambiguous symptoms – even following a negative test result – should be clarified with a doctor without delay.
If you live in Halle, please write an email to corona@halle.de and provide the following information:
• First and last name
• Date of birth
• Address in Germany
• Cell phone number (if available)
• Date of arrival in Saxony-Anhalt and the country/place from which you have entered
I am already vaccinated, what applies to me?
Vaccinated persons are, according to the new Covid-19 regulations of the Federal Government of Germany , equal in status to tested or recovered people.
Vaccinated people also need to provide proof that their vaccine is approved by the Paul-Ehrlich-Institut. Which ones are, can be found here .
Which new privileges come with that status can be retraced in the above mentioned points.
---
Studying during the pandemic
The corona pandemic still presents us with major challenges. What is true today may be different tomorrow. Therefore, we ask all international students to understand that we cannot predict exactly what the winter semester 2021/2022 will look like at our university. The University is currently developing a concept for the winter semester. Our motto is: as much face to face teaching as is responsible.
Before the beginning of the semester, please check Stud.IP, the MLU online course catalogue, to find out whether the courses you have selected will be taught face-to-face or offered in digital form.
General information of the university
On the following pages, the rector's office of the Martin-Luther-Universität provides information on how the semester will be conducted.
Furthermore, there they give updates on the course of studies during the ongoing corona-pandemic.
Enrolment
This semester there are some important additional points to consider when enrolling:
1. Documents to be submitted (send to the following e-mail address: enrolment@verwaltung.uni-halle.de)
filled out Registration Form (was send to you via mail) as a scan - only for guest and exchange students!
a passport photo (jpg or png format) and
proof of health insurance (EHIC or insurance certificate from a statutory health insurance company, if necessary an exemption from this) as a scan
2. The semester fee in the amount of 243.85 Euro (if not yet paid) is to be transferred to the following account with the stated purpose of payment:
Recipient: Martin-Luther-University Halle-Wittenberg
Bank: Deutsche Bundesbank
IBAN: EN 4681 0000 0000 8100 1535
BIC: MARKDEF 1810
Amount: 243,85 Euro
Purpose: 20211, name, date of birth
3. Enrolment can only be made after receipt of the above documents and transfer of the semester fee.
4. The enrollment documents cannot be picked up in person. They will be sent to the students by mail. The prerequisite for sending the documents is a postal address in Halle/in the region.
Living in a student dormitory
Quarantine cannot be completed in the student dormitory.
To move into a dormitory of the Studentenwerk Halle, you will be required to show proof that you have been in quarantine for 10 days.
You can also show a second negative test, which can be done 5 days after entry at the earliest.
Further information can be found on the website of the Studentenwerk Halle.

Vaccinated and recovered students
Vaccinated and recovered students can, after presenting the relevant documents as evidence, move into the student dorms.
Postponement of the planned stay
If you are a guest or exchange student and have to cancel or postpone your planned stay in Halle, please inform the International Office (via e-mail to: incoming@international.uni-halle.de).
Please note that your home university has to renew your nomination for your stay at MLU Halle in winter semester 2021/22!
Deadline for nomination for the summer semester 2021: 15.06.2021
Only if you have been re-nominated you can apply for a study visit in winter semester 2021/22!
---
---