---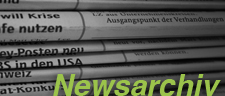 2017
| | | | | | |
| --- | --- | --- | --- | --- | --- |
| Jan | Feb | Mar | Apr | May | Jun |
| Jul | Aug | Sep | Oct | Nov | Dec |
---
Newsarchiv: News
Jahr 2017
No office hours
15.06.2017: Due to the festivities around the anniversary of the unification of Halle and Wittenberg university, there won't be any office hours on June 22.
Regular office hours take place on June 20 and then again June 27.
Jahr 2014
German Courses in Winter 2014/15
01.08.2014: We are pleased to announce that we can offer German Courses to our PhD-candidates, postdocs and their partners in the winter semester 2014/15. As in the past we have again different classes each of them targeting a different language level. Classes will start in October and end in February 2015. There will be two lessons each week. The course fee is 80 Euro and has to be paid in advance. Find out more about our courses and register for a course by clicking the link below.
Peter Grüttner, the new coordinator of PhD-Network
01.07.2014: In July 2014 I started working as the new coordinator of the PhD network. Having used similar networks in the past as a doctorate candidate abroad, I decided it is time to switch sides and offer help and advise to PhDs and postdocs myself. Having gained some experience in the position as a coordinator in ESF- and language/ media literacy projects intended for young adult migrants, I look forward to helping and counselling at my home academia.
I have changed office hours: Tuesdays 10 am - noon at Universitätsring 19/20.
Apart from working at the International Office, I am lecturing in Latin American Studies (Department of Romance Studies) and researching for my own PhD thesis on Brazilian cinema.
Jahr 2013
PhD Canoe Tour and Summer Party with Barbecue
20.06.2013: Already for the fifth year in a row, we would like to invite you to join our canoe tour and summer party on July 13, 2013.
Hiking Tour through the Saale Valley
23.05.2013: On June 22, we will be going on a hiking tour through the beautiful valley of the river Saale. On our trip we will pass through parts of the traditional wine-growing region Saale-Unstrut.
International Week at the Martin-Luther-University, May 14-16, 2013
07.05.2013: Looking beyond the borders: On May 14-16, 2013 the International Office will celebrate again an International Week. On this occasion, there will be a "Dies Internationalis" at Halle University on May 15, 2013 (there will not be any regular lectures or seminars on May 15. Thus, students and staff will have the opportunity to attend the workshops and information sessions). The programme comprises a great variety of international topics ranging from information on study and work abroad placements, an "International Opportunities Fair" ("Markt der Internationalen Möglichkeiten"), workshops for international students, discussion sessions on European Research and the new EU Programmes, up to language taster courses. All students, researchers and guests are cordially invited!
Language Exchange Program in the Summer Term
02.04.2013: In the summer term of 2013, the International Office and PhD Network launched a new Language Tandem Program. The program is about people from different linguistic and cultural backgrounds getting together into teams. These teams consist of two or more people helping one another with communication in real life situations, linguistics, and to better understand each other's culture. Within our program, we do not only offer the opportunity to find a tandem partner, we also support the tandem teams with further meetings during the course of the semester. Participation in our programme is free! The tandem events are held in German and English. Further information on application and events can be found in our brochure.
New German Language Courses in the Summer Term
19.03.2013: In the summer term 2013, the PhD Network offers again German language courses for international PhD students, postdocs and their partners (start: April 10, 2013). We would like to invite all interested German learners to participate in our information meeting on Tuesday, April 9, 2013 at 6 pm in lecture hall 15, Melanchthonianum, Universitätsplatz 8-9, Halle (Saale).
Excursion to Buchenwald and Weimar
28.02.2013: We would like to draw your attention on a 2-days-excursion in May that will give us not only information about a dark chapter of German history but, in addition, may encourage us to reflect about its meaning for our present life. Therefore, we would like to invite the international PhD students and postdocs of Halle to explore with us the historical site and memorial place of the former concentration camp "Buchenwald" on May 9, 2013. Based on this case example, we want to reflect and discuss about how to cope now with the holocaust. The seminar will be held in English by a specialist of the foundation "Memorial sites Buchenwald and Mittelbau-Dora". On May 10, we will pass a day in Weimar city, where you may join in a walk along the cultural sites. Registration at Contactus by March 18, 2013 for the latest.
Teaching and Research Assistantships
21.02.2013: In the summer term 2013, MLU awards again Teaching and Research Assistantships to international PhD students of the University. The deadline for application is on March 11, 2013.
The Phantom of the Opera
08.01.2013: "Strange things are happening in the Paris opera. Therefore, rumors of a mysterious distorted man who lives in the catacombs begin to spread. However, nobody has seen this phantom up to now..." In his new ballet "The Phantom of the Opera" on January 27, 2013, Ralf Rossa connects the mystery with the beauty and the certainty with the astonishing, and he will definitely provide us an exciting event. We warmly invite you to join us! Registration and further information at Contactus.
Jahr 2012
PhD Christmas Party
29.11.2012: We would like to get together in the spirit of Christmas, and it is our pleasure to invite you, your colleagues and partners to join in our PhD Christmas Party! Beside tasty food, hot wine punch and other drinks, the participants of our German courses will present a small programme. Furthermore, international music will invite us to celebrate and dance!
---
---