---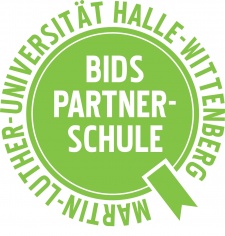 ---
---
Contact
Dr. Manfred Pichler
Referent Internationale Studienangelegenheiten
phone: +49 345 55 21313
fax: +49 345 55 27426
Manfred.pichler@internation...
Universitätsring 19/20
06108 Halle (Saale)
postal address:
Martin-Luther-Universität Halle-Wittenberg
International Office
D-06099 Halle (Saale)
Rebecca Randolf
phone: +49 345 55 21324
fax: +49 345 55 27426
auslandsschulen@internation...
Universitätsring 19/20
D-06108 Halle
---
---
Login for editors
---
German Schools Abroad - University Cooperation Initiative BIDS
In summer 2008 the German Academic Exchange Service started the BIDS programme supporting the cooperation of German schools abroad and German Language Diploma schools on the one side and German universities on the other side.
Nearly 7.000 students graduate from those German schools worldwide. BIDS aims on winning more of them for a full study programme in Germany.
BIDS in Halle offers information on study programmes for all interested students and graduates of German schools abroad. The BIDS team helps with the enrolling procedure and organizes accommodation for new students. Once in Halle, the BIDS team stays in touch with all German school graduates, helps coping with problems and organizes meetings with all MLU students who have graduated from the concerned schools on a regular basis. Contact between international students in Halle is one of the major aims of the local project.
To strengthen the contact between partner schools and the university BIDS in Halle offers teacher trainee students the chance of arranging short term internships at the German schools abroad. For more information please visit the teacher trainee section.
---
---