Life in Halle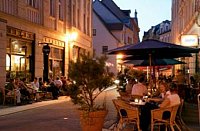 You will find Halle to be a green city with lots of history and a rich cultural scene. The cost of living is reasonable, and there are plenty of interesting things to do with your leisure time.
Performances and shows at the opera, theatre, variety or cabaret venues, and cinemas are a staple of the city's cultural scene, as well as concerts and exhibitions. Halle is also the venue for the internationally renowned Händelfestspiele music festival and Central Germany's biggest fair, known as the Laternenfest. Strolling through the streets, you will see a range of architecture from various different periods, such as Jugendstil, Classicism, Baroque, and the Renaissance. These combine to give this city of nearly 250,000 people its unique atmosphere.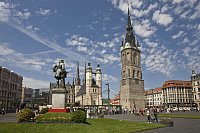 Everything in Halle is so accessible. By bus, tram, or bike, you can soon reach the various institutions, the nightlife hubs, the theatre, or the various green spaces. Halle is also a convenient base from which to explore Germany as a whole. It is only a relatively short trip by train to Berlin, Leipzig, Dresden, or the coast. If you are heading further afield, Leipzig/Halle Airport is just 10 minutes from the main railway station.
Halle also has plenty for you to enjoy in your leisure time, with many bars, pubs, and restaurants where you can relax and treat yourself to a nice meal. You can always move on to the various clubs and other hot spots as the night progresses. But after a nice day, many of us are simply looking forward to going home, and accommodation is relatively cheap compared with other large cities, such as Munich or Cologne. The residential centres and halls provided by the student union - where tutors can help international students with any issues or problems they may have - represent exceptional value. Academics can find somewhere to stay at the International Guest House.
Those looking to relax after studying hard will really love the Peißnitz. This large park on the banks of the Saale has lots of space to get in touch with nature, play sport, or have a barbecue with friends. Halle also has lakes and woods within easy reach. There are opportunities as well to do something more active with other members of MLU or the city's wider population, with a host of associations for those looking to become involved in sport, music, or voluntary work. The university's sports centre offers almost 80 different sports, including Zumba, flamenco, and surfing, as well as team sports, such as football, beach volleyball, and rugby. The city's sports clubs are also always looking to recruit new members. You can indulge your creative side in one of the musical ensembles; the university choir and big band or the Academic Orchestra are always delighted to welcome new members. If your interests lie in debating, photography, or writing, you will find a number of workshops and student-based initiatives at MLU.
---
---