The Japan Halle Connection
Silvio Kison
First came an earthquake, then a tsunami flooded wide stretches of the northern coast on 11 March of this year. Finally to top it all off, there was a catastrophe in the Fukushima I reactor complex. Some students from Halle were in Japan as the earth started shaking and experienced the disaster up close and personal. For safety reasons most returned to Germany. But they wanted to help in Germany too, and some have even gone back to Tokyo to continue studying.
A great deal of time passed during which family members and the students' lecturers in Halle worried about them. Gesine Foljanty-Jost, vice rector and professor for Japanology recalls hearing about the events for the first time. "I heard the news that morning on the radio. At that point in time no one knew how bad the catastrophe was going to be." Above all, it was unclear how the MLU students in Japan were fairing. "Even though these were adults who had gone to Japan to study on our recommendation and with our support, I nevertheless – or maybe because of this – felt responsible. I immediately contacted the German embassy in Tokyo and our partner university," explains the professor. In the end, all of the undergraduate, graduate and PhD students returned unharmed. "Back at home it became quickly clear: we wanted to help," relays Japanology student Kristin Grube. She was also in Japan and is active in the Japanology Institute Group. It was quickly decided that we would hold a bake sale to raise donations. "We wanted to keep the events fresh in people's minds which is why we arranged for the bake sale to take place in the first two weeks of April." A lot of people supported the idea by baking cakes at home. Coffee, cake and bread rolls were sold for three days at the institute in Hohen Weg and for one day at the Audimax on University Square. The students collected a total of 1,050 EUR. The money went directly to Senshu University in Tokyo. It has been Halle's partner university since 1995 and also has a campus in Ishinomaki in the Sendai region which was directly affected by the tsunami. "The money will go directly to rebuilding the devastated campus in Ishinomaki and to the students there who were affected by the catastrophe."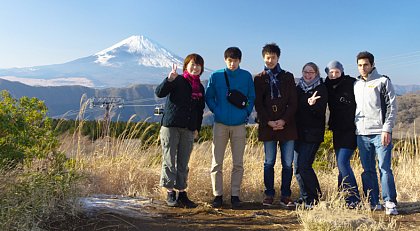 Japanology student Yvonne Richter (3rd from right) with friends and fellow students from Tokyo and Halle standing in front of Mt. Fuji, the highest mountain in Japan. (Photo: private)
Guest professor Katsumi Shimane, who is currently teaching in Halle, was pleased to see this show of dedication when he received the symbolic check. "It is a great honour to accept this donation on behalf of Senshu University. I am very moved by the fact that so many people here are trying to help us," he explained. Many of the students won't make up their second semester in Tokyo or they will return to Japan in September. Currently it is the PhD and double masters students who are in Japan and will begin or continue to study. A small portion already returned at the start of the new semester in April - including Yvonne Richter. She is studying Japanology and Ethnology and was in Japan during the earthquake. She was at the university when the earth began to shake. "I had just finished PE and was standing under the shower when the whole building started shaking," the bachelor student recalls. After this she was unable to reach anyone by mobile phone so was unable to update her fellow students on what was happening until she got back to her dormitory and on to the Internet. At the beginning everyone was sure they were going to stay. "I, myself, wanted to stay. But then when the situation in Fukushima came to a head and rumours of a second earthquake began circulating, we decided to return home."
The Japanese could not comprehend why the Germans were leaving. "After the reactor exploded, I tried to explain to the Japanese why the Germans were panicking. But they replied that there was nothing going on there to worry about and that the government had everything under control," Yvonne Richter explained. It became clear to her that "the Japanese were under-reacting while the Germans were overreacting." The impression of a calm Japanese people could often be seen in the media. A false conclusion remarks Gesine Foljanty-Jost. "I think it is an exoticisation. Even if in some cases it looked as if the people in the earthquake region were remarkably calm and laid back, we know how much grief and suffering the survivors have to deal with." The news reports and the objections of her family were not going to stop Yvonne Richter. After only five weeks, she returned to Japan. Her decision was not an easy one. "On the one hand, I wanted to go back and continue doing what I had started, something which I regarded as being my dream. On the other hand I didn't want to disappoint my family," the student explains. Today she is happy about her decision. Life is now back to normal for her in Japan, only now her contact to Japanese students has intensified. She will be staying in Japan until mid-August. She is no longer in fear of another earthquake.
In Halle, the disaster is still an important topic. It also had an impact on preparations for "Japan Days" at the end of June. "We are not going to celebrate as would befit a 150-year-anniversary of friendly relations between the two countries. We will promote Japan as a place to study and do research and whet the students' and researchers' appetites for Japan through lots of information and numerous events," explains Vice-Rector Foljanty-Jost ahead of the celebrations. Members of the institute group will also be there selling sushi. "Money generated will go directly to the project in Ishinomaki," Kristin Grube explains.
In the end, we can only hope that the Japanese will manage to make their land flourish again with a newfound lustre.
"The Japanese under-react while the Germans overreact."
JAPANOLOGY STUDENT YVONNE RICHTER
Her blog from Tokyo:
http://ypsiloon.blogspot.com .
Find out more about the Japanologists' donation campaign: Webcode MAG-303
---
---