Millions in funding for polymer research
CARSTEN HECKMANN
A great success for the Martin Luther University Halle-Wittenberg: The German Research Foundation (DFG) has pledged around seven million euros over the next four years for the project "Polymers under multiple constraints: restricted and controlled molecular oder and mobility". The MLU is partnering up with the University of Leipzig as part of the new collaborative research centre (SFB/Transregio) approved of by the DFG at the end of May 2011. The Fraunhofer Institute for Mechanics of Materials Halle is also participating.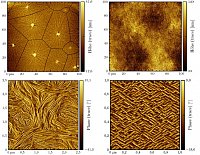 Exciting structures: semi-crystalline polymers can be seen here in thin films on various substrates.
Image: Institute of Physics
Misfolded proteins are observed in such diseases as Alzheimers and Creutzfeldt-Jacobs. But how does this misfolding come about? Clumped proteins cloud the eye lens of cataract patients. Why do these clumps form? "These processes probably share many similarities with the structure formation of polymers – and this is what we want to understand better," says MLU physicist Prof. Dr. Thomas Thurn-Albrecht. Participating scientists carry out basic research in the new collaborative research centre and their findings could have far-reaching effects. By the way, "we still have much to unravel" in the field of synthetic polymers as well.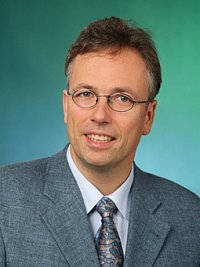 Polymers are ubiquitous. "Every plastic is made up of polymers. Proteins and our DNA – simply put, every soft part of our body – as well," explains Thurn-Albrecht, future SFB spokesman. "It's a material that is neither firm nor liquid with an astoundingly wide range of properties. The individual building blocks are able to organise themselves to create new properties." Researchers want to analyse and examine molecular order and mobility, things that are often very limited in polymers.
Physicists, biophysicists and chemists from Halle and Leipzig, as well as material scientists from the Fraunhofer Institute for Mechanics of Materials are participating in the SFB projects. They aim to systematically pass on their experience in soft matter to PhD students in an integrated research training group.
"We are very excited about the DFG's approval," says Thomas Thurn-Albrecht. "This collaborative research centre will open up many new opportunities in terms of collaboration. We would like to establish ourselves as an internationally attractive centre of polymer research and we have just moved one step closer to achieving this objective."
The DFG's decision also benefits the appointment policy of the Martin Luther University, adds university rector Prof. Dr. Udo Sträter. "The MLU has been working forcefully on expanding and restructuring polymer science in Halle. This strategy is now bearing fruit." Education is also benefiting.
The physics and chemistry programmes are now some of the best on offer in Germany according to the CHE university ranking. In addition to this, the MLU offers the international English master's programme "Polymer Materials Science". This programme enables chemists, physicists and engineers to receive an advanced degree in polymer science.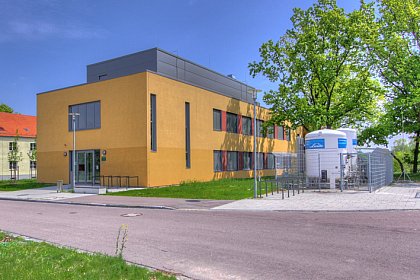 The MLU's polymer physicists work in a freshly renovated building complex on Von-Danckelmann-Platz in Heide-Süd.
Photo: Prof. Dr. Reinhard Krause-Rehberg
---
---