Smaller degree programmes: rare and exotic
CORINNA BERTZ
They bear long, sometimes exotic sounding names, but carry little weight statistically: the small and very small degree programmes at Halle's university. Exotic disciplines like "Archaeology and Art History of the Pre-Islamic Orient", "Intercultural European and American Studies" or "Indology" mostly have an enrolment of less than 50 students. Yet they are often unique and attract attention by their rich traditions or innovative approaches.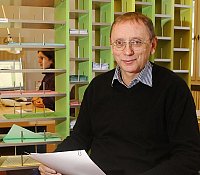 More than 3,000 freshmen came to Halle last winter semester. More high school graduates apply today to German universities than ever before. Despite this, only a few choose to study "Classical Ancient Studies" for example. Lectures have a more seminar-like atmosphere in many of these exotic disciplines. Things look different in special courses of study such as Speech Studies or Near and Middle Eastern Studies whose forms are unique and therefore attract many applicants. But even in these subjects entrance exams and/or restricted admission keep the number of students down.
It's hard to find a common denominator for these "exotic" subjects; there is such a broad range of more than 50 courses of study that have fewer than 50 students. Ten years ago these were almost exclusively liberal arts subjects. Some have been a fixture of MLU curriculum for centuries and continue to shape the image of this comprehensive university today. What they harbour – for example the library of the German Oriental Society or the scientific collections of the Arabic, Islamic and Christian Orient and Byzantine Studies Department are partly of international importance to experts. New interdisciplinary master's programmes such as "Enlightenment-Religion-Knowledge" or the one-of-a-kind "German Japanese Double Master" also receive a high degree of attention in their respective scientific disciplines.
Examples of scientific subjects among the small and very small programmes are primarily new and often practical and future-oriented. Graduates of programmes such as "Medical Physics" or "Management of Natural Resources" currently have excellent chances on the job market. Students enrolled in highly-specialised subjects often find jobs after graduation that are unrelated to their degrees. University applicants therefore need to know just exactly what they are letting themselves in for with such programmes, Eberhard von Massow maintains. The Head of Student Services at MLU wouldn't recommend such exotic subjects for everyone.
---
---