---
---
Links
---
Contact
Dr. Manfred Pichler
Head of the International Office
phone: +49 (0) 345 55 21313
manfred.pichler@verwaltung....
Universitätsplatz 11
06099 Halle (Saale)
---
---
Login for editors
---
Partner Procurement
German Academic Exchange Service not only in-demand point of contact for school projects

CARSTEN HECKMANN
From El Salvador to South Korea, Ireland to South Africa, the Martin Luther University is in partnership with 20 foreign schools as part of the Betreuungs Initiative Deutsche Auslands- und Partnerschulen (BIDS) [German Foreign and Partner Schools Support Initiative]. Nine pupils from participating schools came to Halle at the beginning of June for a trial study week. A few weeks prior to this, the German Academic Exchange Services (DAAD) announced its support of the project for the third year. A success for the International Office whose expertise is also in-demand many different places.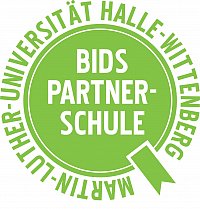 "We received nearly 50,000 euros from DAAD in order to further the project," reports Dr. Manfred Pichler. The head of the International Office knows that this source could run out. "It is once again start-up funding. But I believe that we will see long-term effects from it – schools are now taking notice of our university."
DAAD has a clear objective with this programme: of the 7000 graduates of the 133 German schools abroad and numerous language diploma schools, as many as possible should study in Germany. Orientation days, mentors and scholarships are meant to encourage this. Since the start of the project, nearly 20 students have found their way to the MLU – "a clear success with room to grow," says Manfred Pichler.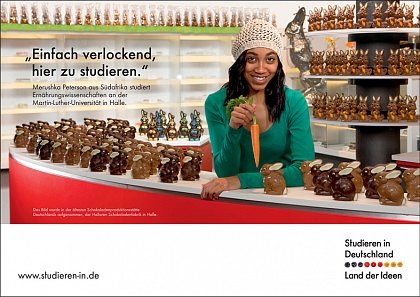 Halle student, Merushka Peterson, promotes Germany as a place to study, in both German and English.
Source: DAAD
After all, one such pupil is now causing a stir. South African Merushka Peterson will soon smile down from posters around the world and advertise for German universities. The 19-year-old attended the German School in Pretoria. Since this past October she has been studying nutritional sciences in Halle. DAAD selected her for its campaign "Study in Germany – Land of Ideas". Merushka Peterson is very proud to represent Germany. "I hope that I can convince foreigners to study in Germany because I like it here very much. Halle has become my second home."
Manfred Pichler is happy to hear such things. He and his staff make up the central point of contact for all foreign students and potential students as well as those at the university who are interested in studying abroad. Exchange programmes like Erasmus are a decisive factor for students. Scientific exchange is also a major field of activity for the International Office.
"We offer information, for example, on finance opportunities for setting up new international contacts. We help prepare and coordinate such contacts. The university's contractually regulated partnership relations is one such focus," reports Pichler.
The MLU has arranged 50 university partnerships, the latest with the Tafila Technical University in Jordan. Many people believe that this means non-stop travelling for the head of the International Office. "A long way off," says Pichler. "It's the scientists who travel. Once and awhile someone from the exchange office accompanies them to a college fair." Pichler himself was in Vietnam in January. He's only got one other trip abroad planned for this year: a holiday in Switzerland.
---
---