---
---
Contact
Prof. Gesine Foljanty-Jost
phone: 0345 55-24330
gesine.foljanty-jost@japano...
Institut für Politikwissenschaft und Japanologie der MLU
06099 Halle (Saale)
---
---
Login for editors
---
Fertile Partnership
Senshû University Tokyo turns 130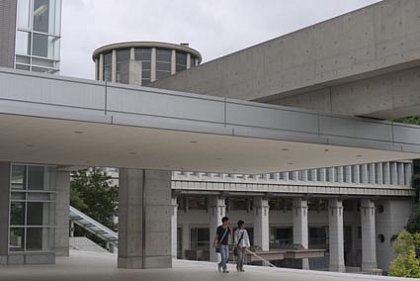 The Senshû University Tokyo has had close ties with the MLU for over 13 years. Photo: Senshû University
"Creating a student-focussing university" - This is the motto of the Senshû University in Tokyo, a university seeped in tradition that is celebrating its 130th anniversary this year. For over 13 years it has had close ties with the MLU as a partner university. The signing of the partnership agreement in 1996 marked the start of an intensely close working relationship. The partnership was initiated by Halle's Japanologist Prof. Gesine Foljanty-Jost and Jurist Prof. Yoshihiro Hidaka, today president of the Senshû University. Both have worked since then to strengthen this partnership. "A lot of thanks are due Yoshihiro Hidaka for his commitment," says Gesine Foljanty-Jost. "He is continuously strengthening the partnership with the MLU personally and through his university, expanding on the cooperation network. This benefits undergraduates, graduate students and teachers on both sides." The Japanologist from Halle, accompanied by the Vice-Chancellor Wulf Diepenbrock, will travel to Tokyo in October to give a speech to mark the anniversary.
Founded in 1880, the Senshû University is located in the centre of the metropolis of Tokyo and is one of the most venerable private universities in the country. It distinguished itself through its contribution in bringing a modern legal system to Japan in the second half of the 19th century.
Today, it is one of the country's largest private universities with six faculties and over 20,000 registered students. It offers students from MLU excellent language courses, a wide range of other courses, as well as the possibility of sampling Japanese sports and culture within student circles.
More than 50 students have taken part in the exchange programme over the past 13 years. Many of them received scholarships from the Japanese Ministry of Education. The Germany Academic Exchange Service (DAAD) has generously funded the partnership throughout the years. Joint projects include ecological summer schools, research into the cause of violence in school in Germany and Japan, and the current research project comparing civil society in both countries. In addition to the continuous student exchanges in various branches of study, these projects are testament to the fruitfulness of the academic partnership.
U. O.
---
---