---
---
Contact
Sissy Metzschke and Kerstin Klewitz
Dept. of Media and Communication Sciences
06099 Halle (Saale)
---
---
Login for editors
---
A new look for UniTV
SILVIO KISON
Since 2006 the MLU has had its own TV station called UniTV. Its producers have not gone down the conventional route - they broadcast their latest programme once a month as a podcast on their Internet site. Despite the transition to bachelor's and master's programmes, the popular format remains. However there have been many changes: new editors-in-chief, a new web presence and, starting summer semester, participating in UniTV will count towards "General Key Qualifications".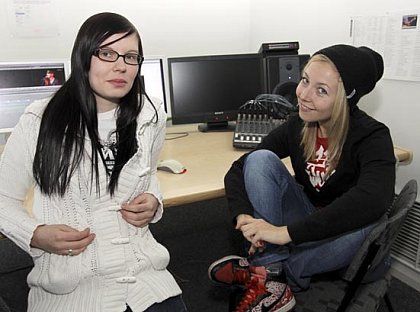 Kerstin Klewitz (left) and Sissy Metzschke (right) in the cutting room at the MMZ
(Photo: Silvio Kison)
"The new web presence is overdue," Sissy Metzschke proudly explains. She is one of two editors-in-chief and is known in Halle as a host on the radio station "Sputnik". She has been heading the team together with Kerstin Klewitz since October 2010. The two masters students in media and communication sciences are veterans of the business. Experienced film-maker and lecturer Uta Kolano is lending them her support. "Ms Kolano takes part in the editorial meetings and offers her ideas and expertise," Klewitz explains.
"UniTV used to be offered as a practical course, which is how we came to be involved," Metzschke recalls. However this wasn't possible for the new generation of students. Most of them joined out of interest and are involved with UniTV outside of their studies. The new GKQ module is set to change this. "We hope to be able to open it up to other areas if study and to attract students from other programmes, not just our own," explains Klewitz.
Like the old model, GKQ lasts only one semester. But the two women don't expect any problems finding personnel. "Many people remain longer and stay involved here even after the semester ends," Metzschke explains. The editorial staff is usually made up of a core of five to ten students. This is important, the editors-in-chief stress, mainly because it's all about learning by doing. "A lot of people come to us with little to no experience in producing a report." The so-called veterans help the newcomers by explaining to them how to work a camera, what a report has to contain, how to correctly prepare a report and, of course, how to splice it together at the end.
Around 20 students participate each semester. The editorial staff meet together once a week to discuss everything that is important for the next broadcast. "The meetings are organised around the fact that we broadcast every four weeks," Metzschke explains. There are four meetings per broadcast. We discuss and make decisions about everything from topics, building teams, filming and editing.
If you feel inspired to get in involved with UniTV, please contact the editors-in-chief.
---
---