---
---
Contact
Shino Yuo
Referentin Internationale Alumni
phone: 0345-55 21549
fax: 0345-55 27427
shino.yuo@international.uni...
Universitätsring 19/20
06108 Halle (Saale)
postal address:
Martin-Luther-Universität Halle-Wittenberg
International Office
06099 Halle (Saale)
---
---
Login for editors
---
News
Pictures of the fall meeting of the Vietnamese alumni group
We are happy to inform about the founding of the Vietnamese alumni group "Club MLU Halle". About 40 alumni of MLU have gathered in October in Vinh Yen, near the capital Hanoi to revel in their memories about their time in Halle. Besides playing golf and soccer, the program also included a gala dinner with extensive dancing and singing (even in German). Also, t-shirts showing the MLU logo were printed for the event. There are plans to organize an annual fall meeting "Mua Thu tim lai" every October.
If you are interested in contacting Club MLU Halle please do not hesitate to contact us.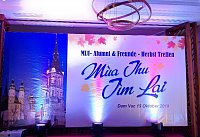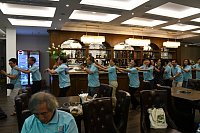 Polonaise
©Nguyen Quoc Hung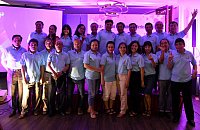 Club MLU Halle group picture
©Nguyen Quoc Hung
---
---