---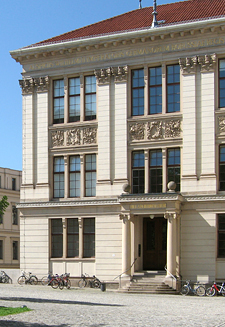 ---
---
---
Contact
International Office
phone: +49 345 55 21535
phone: +49 345 55 21313
phone: +49 345 55 21579
fax: +49 345 55 27427
info@international.uni-hall...
Universitätsring 19/20
D-06108 Halle
postal address:
Martin-Luther-Universität Halle-Wittenberg
International Office
D-06099 Halle
---
---
Login for editors
---
International Students
Information on handling the novel coronavirus
Information about the Authority for Foreign Citizen and Asylum
The Authority for Foreign Citizen and Asylum has opened again on May 11th, 2020.
Please take a look at the new regulations and fill the mandatory health questionnaire before you visit the Authority for Foreign Citizen and Asylum!
New regulations of the Authority for Foreign Citizens and Asylum (May 11th, 2020)
Bestimmungen Ausländerbehörde_Eng.pdf (410.8 KB) vom 12.05.2020
Health questionnarie for all visitors of Halle (Saale) city administration
Englisch Gesundheitsfragebogen_.pdf (241.2 KB) vom 12.05.2020
Information on teaching at MLU
At MLU, the lecture period of the summer semester started on April 6, 2020 with online courses. The digitalized form of teaching will remain the norm for the summer semester 2020. Face-to-face teaching and examinations will be an absolute exception.
From 4 May 2020, it possible to collect and return media at five locations of the University and State Library (ULB): https://bibliothek.uni-halle.de
Students, scientists and staff can find the most important information on the university's website at: https://www.uni-halle.de/coronavirus
Current rules of conduct
As of April 23, 2020 the obligation to wear a mask will apply in Saxony-Anhalt. Wearing a protective mask, scarf or other mouth and nose protection to contain the spread of the corona virus is mandatory when shopping and using public transport.
The exit restrictions imposed on the city of Halle still apply. This means that all residents must observe certain rules of conduct outside their own homes:
Rules of Conduct_16.04._EN.pdf (263.4 KB) vom 29.04.2020
Due to these rules, there are currently no consultation hours in the institutions and authorities in Halle. This also affects the International Office, the Registration Office (International students section) and the General Student Advisory Service of the University. Inquiries can currently only be made and answered in writing or by telephone.
Information for Guest and Exchange Students
For information for guest and exchange students on the current situation please have a look at the following pages.
Thank you for your interest in studying at our university.
In this section you find all necessary information on studying and living in Halle.
The University of Halle welcomes students from all over the world. Potential applicants find a wide range of study programmes, an outstanding learning environment and a long academic tradition come along with a lively and green city full of culture and creativity.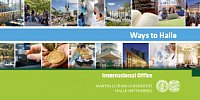 The booklet Ways to Halle contains useful information about the application requirements as well as the course offer for international students.
Booklet_Wege nachHalle_einzelne Seiten_en.pdf (1.6 MB) vom 30.06.2014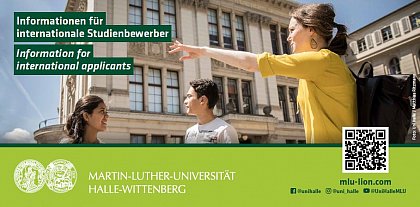 Information for international applicants
Information for international applicants
Informationen für internationale Studienbewerber.pdf (938.2 KB) vom 03.07.2020
Also visit us on Facebook – Facebook – here you will find up-to-date information on funding and support programmes and events, photo galleries, and you can always contact us!
---
---