---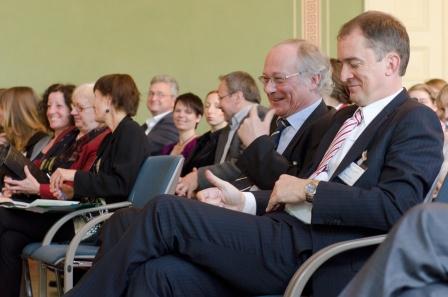 ---
Contact
Esther Smykalla
Referentin Internationale Forschung / Wissenschaftlermobilität
phone: +49 345 55 21538
fax: +49 345 55 27427
esther.smykalla@internation...
Universitätsring 19/20
D-06108 Halle
postal address:
Martin-Luther-Universität Halle-Wittenberg
International Office
D-06099 Halle (Saale)
---
---
Login for editors
---
Scientists
Welcome to the International Research Department of the International Office at the Martin Luther University Halle-Wittenberg (MLU)
In this section of the International Office
scientists from Halle who are planning a research stay abroad or want to support the "internationalisation at home" by implementing joint or double degree programs in Halle in cooperation with their partners abroad
will find information and support services.
Information for international mobile researchers in connection with travelling to Halle or travelling abroad during the Corona pandemic
Entry and visa
Please find answers from the Federal Police here . Here you can find out, for example, who is currently allowed to enter Germany from outside Europe (in German only). This are amongst others
foreign students (including doctoral students) whose studies cannot be conducted entirely from abroad
skilled workers with a concrete job offer in the sense of the legal definition (§§ 18 Abs. 3, 18a, 18b AufenthG), which is proved by the declaration of employment
scientists/researchers (§ 18d AufenthG)
Questions and answers of the BMI concerning the coronavirus can be found here . Here you will receive information, for example, whether people entering Germany have to go into quarantine.
If you will have to go into quarantine, you will find recommendations and information on home quarantine in various languages here (provided by the "Bundeszentrale für gesundheitliche Aufklärung").
Regulations for persons entering Germany in connection with the novel coronavirus SARS-CoV-2 provided by the Federal Ministry of Health
2020-06-12_regulations_for_travels_new.pdf (200.8 KB) vom 11.07.2020
Confirmation of the necessity to be present in Germany for the purpose of research(§ 16b Residence Act)
Bestätigung Notwendigkeit Anwesenheit in D_Forschende_EN.docx (493.5 KB) vom 20.07.2020
Euraxess Germany offers bundled information on visa and entry in connection with the coronavirus in German and English.
Your locally competent public health office (Gesundheitsamt) can be found online here .
Students from third countries would have to present a document when applying for a visa and when entering Germany, stating that the studies cannot be carried out completely from abroad and that personal presence is mandatory. In the meantime, the DAAD, together with the HRK, has produced a sample letters for the universities.
Germany and Saxony-Anhalt: Current situation and regulations
Daily situation reports of the Robert Koch Institute in German and English
Here you can read up on the corona regulations in the individual federal states, including Saxony-Anhalt (in German only).
City of Halle: Information and contact persons
Here you will find important contact persons in Halle in connection with the corona virus, e.g. a service telephone number for medical questions.
Public health office (Gesundheitsamt) in Halle
Halle (Saale)
Fachbereich Gesundheit
Niemeyerstr. 1/2
06110 Halle
Sachsen-Anhalt
Telephone: 0049 (0)345 221-3220
Fax: 0049 (0)345 221-3222
Email: gesundheitsamt@halle.de
Under the following link you will find an overview of the fever centres in Halle Saale, which offer a covid test if required.
You will also find useful information on the corona test procedure.
The city of Halle answers questions here , for example how much a Corona test costs.
Members of the MLU can find current information from the MLU on the corona pandemic on specially set up websites.
Information on new infections in Halle
Information from MLU
Travelling abroad
Here you will find information from the MLU on whether you can travel without restrictions during your holiday (in German only).
Here you will find information from the MLU on whether you can currently go on a business trip (in German only).
Here you will find a list of risk areas of the Robert- Koch-Institute.
Find travel warnings of the Federal Foreign Office including a current overview map here .
You can find a country overview of the German missions abroad in your destination country here .

---
---