---
---
Contact
International Office
phone: Tel: +49 345 55 21590
fax: Fax: +49 345 55 27427
info@international.uni-hall...
Universitätsring 19/20
06108 Halle (Saale)
postal address:
Martin-Luther-Universität Halle-Wittenberg
International Office
D-06099 Halle (Saale)
---
---
Login for editors
---
News
Go East Studentships for summer schools!
Information about the current situation at Chinese universities
The DAAD informs about the current situation at Chines universities and travel e.g. entering and leaving country, please see the DAAD webpage .
Studentships for the USA!
Für junge Studierende mit Migrationshintergrund an deutschen Fachhochschulen und Universitäten bietet die Deutsch-Amerikanische Fulbright-Kommission ein Sommerstudienprogramm in den USA an. Mehr Infos siehe: https://www.fulbright.de/programs-for-germans/studierende-und-graduierte/diversity-initiative
Exchange places in India, Japan and USA!
Derzeit sind Bewerbungen für Austauschplätze an der University of Delhi, der Musashi University (im Großraum Tokio, Japan, bitte bis 3.2.2020 bewerben) sowie der Georgia Southern University (Georgia, USA, bitte bis 1.3.2020 bewerben), der University of New Mexiko (Alberquerque, bitte bis 27.2.2020) bewerben möglich. Es stehen jeweils zwei Plätze zur Verfügung. Näheres bitte bei den Sprechzeiten des International Office oder beim zuständigen Ansprechpartner im IO, Dr. René Lenz, erfragen.
Internship with IAESTE!
"Während des Studiums auf ein Auslandsabenteuer nach Brasilien, Indien, Ghana, oder Griechenland? Mit IAESTE ganz einfach!
IAESTE vermittelt Auslandspraktika im technisch-naturwissenschaftlichen Bereich in über 80 Ländern der Welt.
Das Beste: Die Vermittlung ist kostenlos und die Praktika sind bezahlt.
Wie du zu deinem Auslandsabenteuer kommst, erfährst du bei unserem Infovortrag am 09.01.2020, 18:00, im Beratungsraum des International Office.

DAAD Prize 2020 - Call for Applications
In 2020, the German Academic Exchange Service (DAAD) will award a prize to a foreign BA or MA student or doctoral student at Martin-Luther-Universität Halle-Wittenberg.
The Prize is intended to honour outstanding academic achievements and remarkable social or intercultural commitment.
The prize is endowed with a total of 1,000 EUR. Application is open to foreign degree-seeking students as well as to students who have graduated from Martin-Luther-Universität.
Deadline for applications is January 20th, 2020
(Students with German school leaving certificates as well as guest and exchange students are not eligible.)
DAAD Prize 2020 - Call for Applications
DAAD-Prize 2020 - Call for Applications.pdf (154.3 KB) vom 21.11.2019
Study in Canada, November 14th
You are thinking about studying in Canada, but you need information about how to apply and finance it? You are not sure which university might fit your needs and what about VISA regulations? Then we will help and provide you with information:
November 14th, IBZ (Emil-AbderHalden-Str.7a), starting time 15:00
The IO of the MLU and the IEC
International Day 2019, May 8th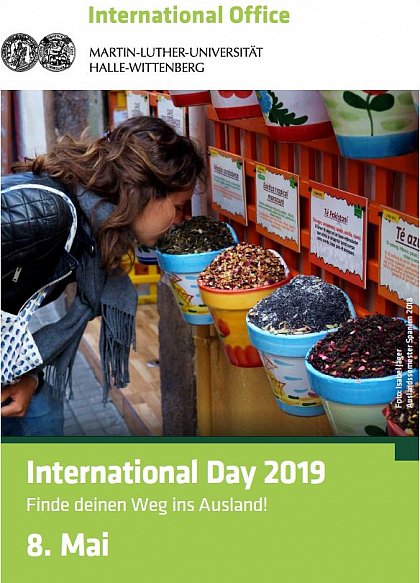 International Day 2019
Find your way abroad!
You want to study abroad and don't know how? Then enter 8 May 2019 in your calendar right away! Starting at 12:00 noon, you can find out more about applications, financing and country focal points at various stands on Uniplatz and at lectures at the Melanchthonianum. The day ends in the evening with a Chinese cultural event where culinary, dancing and musical surprises await you. We are looking forward to seeing you!
Programme International Day 2019
Programm_InternationalDay2019.pdf (315.4 KB) vom 12.04.2019
Become a Buddy for international students
Information on Leonardo Internship
The Leonardo Office offers a consultation hour every third Thursday of the month from 4 p.m. to 6 p.m. in room U.06 of the Juridicum of the MLU (Universitätsplatz 5 - 7).
From 16-17 o'clock a consultation in the group takes place (short info. lecture to the European Union practical courses and question round). From 17-18 o'clock an individual consultation (individual requests and specific questions) is possible.
A pre-registration is not necessary.
Event calender for international doctoral candidates and Postdocs
Also visit us on Facebook – Facebook – here you will find up-to-date information on funding and support programmes and events, photo galleries, and you can always contact us!
---
---