---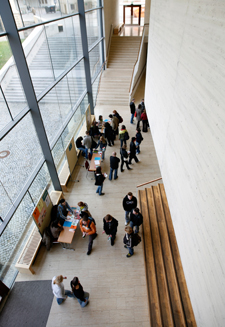 ---
---
---
Contact
Esther Smykalla
Referentin Internationale Forschung / Wissenschaftlermobilität
phone: +49 345 55 21538
fax: +49 345 55 27427
esther.smykalla@internation...
Universitätsring 19/20
06108 Halle (Saale)
postal address:
Martin-Luther-Universität Halle-Wittenberg
International Office
D-06099 Halle (Saale)
---
---
Login for editors
---
Acceptance as PhD Student and Enrolment
The order of steps 1 and 2 is the regular procedure at the Faculty of Philosophy I and the Faculty of Natural Sciences I. At the other faculties the order of steps may vary.
At some Faculties you can apply online. Please consult the website of the respective faculty for further advice.

Step 1: Apply as a doctoral candidate at the Deans office in your faculty
If you want to earn a doctoral degree from Halle University you will have to apply for acceptance as a doctoral candidate at the dean's office of the faculty your discipline belongs to.
Please find the relevant form on the website of your faculty's dean's office. At some faculties the application has been switched to an electronic system. In such cases you will find a link on the faculties' website.
No matter if you apply online or with a paper document, you will always need a signature from your supervising professor.
During the application process your university degrees obtained abroad will be checked for equivalence. Therefore, please hand in the following documents at your faculty's deanery:
Certified copies of any previously completed university degrees, e.g. Bachelor's or Master's Degree, Diploma. Please hand in certified copies in the original language

and

certified translations in German or English (Certificates in German or English do not need to be translated).
Certified copies of your university transcripts
The check may take some time. It can also happen that you will be accepted but with conditions. That is why we recommend applying in the very early stages of your doctorate, preferably even before starting.
On the websites of the faculty you will also find the doctoral degree regulations (Promotionsordnung), which governs all details of the doctorate at your faculty. Please read the doctoral degree regulations carefully and contact your supervisor or the dean's office if questions should arise.
All doctoral degree regulations
Step 2: Enrol as PhD student at the Student Service Center of Halle University
During your doctorate at Halle University you may enrol as a PhD student. The enrolment at Halle University as a PhD student is not mandatory but recommended.
Some of the advantages are free use of the public transport system in Halle and in the MDV ("Mitteldeutscher Verkehrsverbund), free use of the university libraries, reduced prices in the university cafeterias.
For the enrolment of doctoral candidates there are no deadlines and no tuition fees are charged. However, a registration fee of 192,55 € per semester has to be paid if you enrol.
For this purpose please hand in the following documents:
The completed form "Registration form PhD"
A legally attested copy of your university degree certificate (Master, Diploma)
A written confirmation by your academic supervisor at Martin-Luther-University on the topic of the dissertation and the anticipated period of supervision
Passport size photo for your student ID (Uni-Service-Card)
Please find the application forms and information sheets here:
Please hand in your documents in person once you are in Halle.
Contact
Martin-Luther-Universität Halle-Wittenberg
Abteilung 1 – Studium und Lehre
Referat 1.1 Studierenden-Service-Center (Immatrikulationsamt)
Frau Gaudig / Frau Schreiter
Universitätsplatz 11 Löwengebäude
D-06108 Halle
phone: +49 (0)345 - 552 13 14
fax: +49 (0)345 - 552 70 52
kati.gaudig@verwaltung.uni-halle.de
New office hours:
Monday - Friday: 10:00 - 12:30
or with appointment
postal address:
Martin-Luther-Universität Halle-Wittenberg
Abteilung 1 – Studium und Lehre
Referat 1.1 Studierenden-Service-Center (Immatrikulationsamt)
Frau Gaudig
D-06099 Halle
---
---