---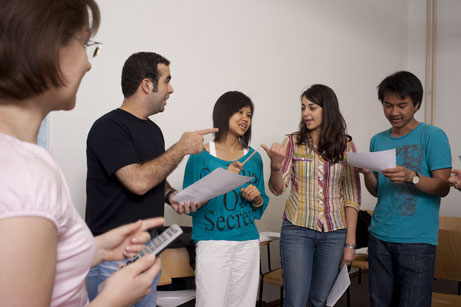 ---
---
Contact
Esther Smykalla
Referentin Internationale Forschung / Wissenschaftlermobilität
phone: +49 345 55 215 38
fax: +49 345 55 274 27
esther.smykalla@internation...
room 1.03.0
Universitätsring 19/20
06108 Halle (Saale)
postal address:
Martin-Luther-Universität
International Office / PhD Network
06099 Halle (Saale)
---
---
Login for editors
---
German Language Courses
Basics
In the summer term 2020 the PhD Network offers German language courses at all levels for international doctoral candidates and postdocs of Halle University. Also their partners are very welcome if there are places available. All classes are run by experienced teachers and take place twice a week in the evening. For more information about the times, venues and the content of the course levels see the text boxes and course descriptions below.
Important:
Due to the new coronavirus the PhD Network German classes in the summer semester take place as online courses. In case of questions please contact the PhD Network.
Further information and registration
Please use our online system to register for a German course.
| | Course dates summer term 2020 |
| --- | --- |
| Registration deadline | 22nd of March 2020 |
| Course fee | 80,00 € per person and term |
| Transfer of course fee | until the 22th of March 2020 |
| Start of courses | Calendar week 15 (2020) |
| End of courses | Calendar week 29 (2020) |
Overview of all courses during summer term 2020
Schedule German Courses PhD Network summer term 2020
Plan Deutschkurse PhD Network SoSe2020.pdf (164.5 KB) vom 13.02.2020
Level A1 (CEFR-level A1: Breakthrough)
Lecturer: Ms Toufahi
Tuesday, 6-7.30 pm
Thursday, 6-7.30 pm
Course description level A1
Deutschkursbeschreibung Level A1.pdf (46.4 KB) vom 02.07.2019
Level A2 (CEFR-level A2: Breakthrough)
Lecturer: Ms Zawistowska
Monday, 6-7.30 pm
Wednesday, 6-7.30 pm
Course description level A2
Deutschkursbeschreibung Level A2.pdf (160.9 KB) vom 02.07.2019
Level B1.1 (CEFR-level B1: Advanced Beginners)
Lecturer: Ms Octaviani
Tuesday, 6-7.30 pm
Thursday, 6-7.30 pm
Course description Level B1
Kursbeschreibung B1.1.pdf (55.6 KB) vom 18.02.2020
Level B1.2 (CEFR-level B1: Advanced Beginners)
Lecturer: Ms Tannenberg
Monday, 6-7.30 pm
Wednesday, 6-7.30 pm
Course description level B1
Beschreibung Deutschkurs B1.2.pdf (82 KB) vom 18.02.2020
Level B2 (CEFR-level B2: Vantage)
Lecturer: Ms Hofert
Monday, 6-7.30 pm
Thursday, 6-7.30 pm
Course Description Level B2
Deutschkursbeschreibung Level B2.pdf (290.3 KB) vom 02.07.2019
Level C1 (CEFR-level C1: Effective Operational Proficiency)
Lecturer: Dr. Travkina (Ms)
Tuesday, 6-7.30 pm
Thursday, 6-7.30 pm
Course description level C1
Deutschkursbeschreibung Level C1.pdf (46.5 KB) vom 02.07.2019
---
---