---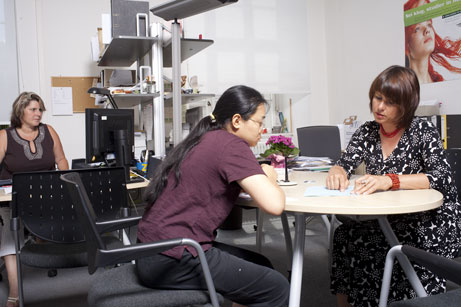 ---
Contact
Studierenden-Service-Center | Immatrikulationsamt
Kati Gaudig
phone: +49 (0)345 - 552 13 14
phone: +49 (0)345 - 552 15 19
fax: +49 (0)345 - 552 70 52
international.students@uni-...
Universitätsplatz 11,
Löwengebäude Raum 8,
06108 Halle (Saale)
postal address:
Martin-Luther-Universität Halle-Wittenberg | Studierenden-Service-Center | Immatrikulationsamt
06099 Halle (Saale)
---
---
Login for editors
---
Enrolment
Enrolment for international doctoral candidates takes place at the Student Registration Office (Immatrikulationsamt). The necessary documents must be handed in personally or sent by post. The following documents should be submitted:
a completed registration form "Registration for PhD study"
the original of your university degree certificate (Master's, Diploma, etc.) in its original language
If the degree certificate is not in German or English: a certified translation into German or English
a copy of your university entrance certification (e.g. graduation diploma)
written confirmation by your academic supervisor on the topic of the dissertation and the anticipated period of supervision (Confirmation of supervision)
a bank statement (or record) indicating when you transferred the semester fee
passport size photo for your student ID (Uni-Service-Card, which serves as a ticket for the region's public transport network MDV)
In case you are a Doctoral Candidate at Naturwissenschaftliche Fakultät I or Philosophische Fakultät I, a written statement by the faculty's Dean's office certifying your acceptance as a Doctoral Candidate at the faculty is also required.
Opening hours of the Student Registration Office (Immatrikulationsamt)
Forms for Enrolment:
Information on registration and enrolment for international PhD students (German)
Merkblatt zur PhD Einschreibung_WiSe18_19.pdf (125.7 KB) vom 17.04.2018
Information on registration and enrolment for international PhD students (English)
PhD Enrolment information WiSe18_19.pdf (86.1 KB) vom 17.04.2018
Registration for PhD study (German)
Anmeldung zur Promotion.pdf (168.7 KB) vom 01.02.2018
Registration for PhD study (English)
Registration form PhD.pdf (166.1 KB) vom 21.02.2017
Confirmation of supervision of a PhD project (German)
Betreuerbestätigung PhD.pdf (115.7 KB) vom 01.02.2018
Confirmation of supervision of a PhD project (English)
Confirmation of Supervision PhD.pdf (44.4 KB) vom 21.02.2017
---
---