---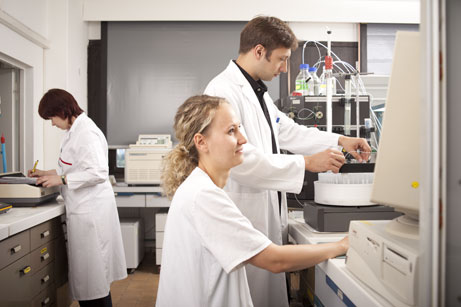 ---
Contact
Esther Smykalla
Referentin Internationale Forschung / Wissenschaftlermobilität
phone: +49 345 55 215 38
fax: +49 345 55 274 27
esther.smykalla@internation...
room 1.03.0
Universitätsring 19/20
06108 Halle (Saale)
postal address:
Martin-Luther-Universität
International Office / PhD Network
06099 Halle (Saale)
---
---
Login for editors
---
Teaching & Research Assistantships
Teaching Assistantships (TA) and Research Assistantships (RA) are supposed to give doctoral candidates hands-on experience in research and teaching as well as strengthen internationalisation of research and teaching at Halle University. TA and RAs support research and teaching by e.g. providing courses for students, supervision of student projects, by collecting and analysing data or preparing publications and conference contributions. Besides, the assistantships may help to partially cover the living costs of doctoral candidates.
Applications have to be submitted jointly by the scientific supervisor and the doctoral candidate to the International Office. All applications will be reviewed by an independent commission of University professors from different scientific fields. For the selected candidates the International Office will make a request towards the Human Resources Department for a contract as a graduate assistant.
Please note:
The duration of a TA or RA will be six months.
You are eligible to apply if you have never had a contract as a graduate assistant before or if you have not had a contract as a graduate assistant for more than six months at the time of the planned start of the TA or RA.
Important: Because of the new "Wissenschaftszeitvertragsgesetz" all holders of jobs e. g. as scientific staff cannot simultaneously accept a contract as research or teaching assisstant. Therefore, please contact us if you already have a contract.
Please find below the application forms (in German and English) as well as detailed information ("frequently asked questions"). We kindly ask to read the FAQs carefully and make all necessary inquiries before handing in the application.
Please enclose the following documents:
Project description and subject-specific reasons for the application written by the professor under who's supervision the TA/RA should be carried out
Letter of motivation written by the doctoral candidate
Copies of all degree certificates and the corresponding transcripts of records in the original language and in a translation into English or German
In case of a renewal: short report on the work and the results of the last funding period
Please note that late or incomplete applications cannot be considered. The call for applications is subject to final approval from the DAAD.
If you have any questions we warmly recommend that you contact us before handing in an application.
Deadline for applications in 2020: January 20, 2020. Earliest start of the TA/RA is April, 1st 2020.

Please note that there will be only one call for applications for the year 2020.
Application Teaching- and Research Assistantships 2020 (German)
Antrag_Lehr-_und_Forschungsassistenzen_2020_Deutsch.doc (136 KB) vom 19.12.2019
Application Teaching- and Research Assistantships 2020 (English)
Application_Teaching-_and_Research_Assistanships_2020_English.doc (136 KB) vom 19.12.2019
Frequently asked questions TA & RA (in German)
TA_RA_Häufig Gestellte Fragen_December2017.pdf (167.2 KB) vom 14.12.2017
Frequently asked questions TA & RA (in English)
TA_RA_Frequently Asked Questions_December2017.pdf (164.8 KB) vom 14.12.2017
---
---